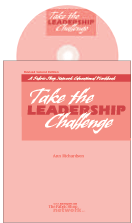 Take the Leadership Challenge CD
Take the Leadership Challenge is about more than just becoming a good leader. It's about taking an active role in training your employees... the face of any business. Enthusiastic, competent employees can be the difference between a mediocre year and a record-breaking year. You could spend thousands of dollars in advertising and marketing—and many more thousands to maintain an amazing inventory. If your customers encounter disinterested or uninformed store employees—it's all for nothing.
Your employees are your single biggest investment. It's just that simple. You want them on your team. To be successful, everybody has to understand the rules of the game. It's your job to make that happen. Take the Leadership Challenge!
---
---
More from this collection