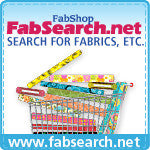 FabShop FabSearch
FabShop FabSearch
Three Easy Ways to Search for Products and Information
Visit the consumer website
www.fabsearch.net
www.fabshophop.com/fabsearch.asp.
Download the Informational PDF Flyer to learn more.
FabShopFabSearch makes it easy for thousands of consumers to locate and purchase your products. It focuses on the product search itself so shoppers can quickly find what they need. By joining the largest collection of shops and products on the web, you get the power of search technology at a fraction of the cost you might expect to pay.
Three Easy Ways to Search
Product Search

(with graphics): This option allows consumers to seach from specific categories, fabric, books, patterns, notions, etc., for items matching their chosen keyword description.



General Search

(text only): By searching through newsletters, class information and products, consumers can easily find products to purchase.



E-Mail Search

: Consumer e-mail requests are compiled into digest form for your review and reply.
---