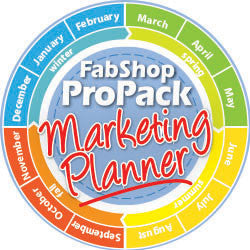 ProPack Marketing Planner
Introducing the ProPack Marketing Planner?
Every day counts for your business. How will you celebrate today?
What is a ProPack?
A ProPack is a package of themed print and digital graphics to help you spread the word every way you can.
Each ProPack Includes:
Printable Postcard
150px Web Button
HTML eNews Template
Plan Ahead and Save!
The ProPack Marketing Planner is an easy and cost-effective tool to plan your most profitable year.
This CD collection Includes:
24 ProPacks


(a $1200 value!)

12 FREE monthly
themed quilt patterns
12 Print & Use postcards
Plan your calendar year with 12 months of holidays, special days, and monthly themes. This cost-effective collection includes a planning bookletfilled with holidays, and special dates, two CDs filled with 24 ProPacks (print and digital graphic sets), 12 free-for-your-customers quilt patterns, plus12 Print & Use postcards. Buy once, and be ready all year!
All ProPacks (print & digital graphic sets) Included:
All Print & Use Bag Stuffers/Postcards Included:
All Print & Use images are available complimentary to FabShop Members in the Member Resource area of FabShopNet.com
12 Free Quilt Patterns Included:
---
---
More from this collection