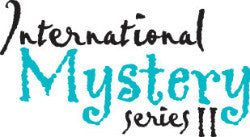 International Mystery Series II Club Program
International Mystery Series II 
Wouldn't your customers rather make a quilt each month instead of a block a month? With the two International Mystery Series programs, you can have them doing just that as they make quilts from around the globe!
The mystery quilt format keeps the program fun and interesting. It also means you can promote a class without having to make a sample!
Offering three colorways each month means the program will appeal to a wide range of tastes and allows the shop to promote slow-moving fabrics.
Every quilter loves

recipes

, so each month there's a recipe that ties in with the featured country.

Promotional ideas and marketing graphics are

 a part of the program.
The program is designed so the shop has a

one-time investment. Photocopy the patterns as many times as you like

, when you like.
Promote the classes as a package deal—fabrics, pattern and fun!
The mystery quilts are designed to be done in a single class. Each pattern has three parts. In the class, the students should be able to complete the blocks, and, in many cases, the layout as well.
No special tools are required. However, suggestions in the Shop Notes about optional tools and notions to promote with the different classes give you an opportunity for add-on sales.
Each quilt uses approximately three yards of fabric — fabric that you already have on your shelves —and are nicely sized to use as throws or lap quilts. To promote the sale of more yardage, each quilt gives suggestions for two additional borders.
For each quilt, suggestions for three colorways tie in with the featured country. They can be customized to fit the flavor of your shop. All of the quilts are scrap quilts. This gives you an opportunity to really mix things up! Offering three choices is a fun way to help promote the mystery class, increase appeal to your customers...and sell more fabric!
FabShop club programs are designed by shopowners for shopowners. Each program is a one-time investment with FREE-to-reproduce patterns and projects, marketing tools, and promotional ideas.
---
 NOTE:  These programs are not to be used as free patterns, free downloads, or giveaways.
---
---
More from this collection