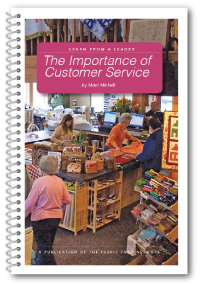 Employee Handbook: Customer Service I by Marti Michell
Customer Service Employee Handbook by Marti Michell
A must-have training resource for every employee!
Marti Michell shares her hard-earned knowledge and wisdom in her regular FabShop News column, "The Importance of Customer Service". Now those informative articles have been compiled into an easy-to-reference handbook.
This handbook is an essential read for every member of your staff!
Learn from an industry leader! Use Marti's tips and years of experience to establish and improve customer service expectations in your shop.
Save time by using proven techniques, tips, and ideas.
Train employees by incorporating examples, role play ideas, and useful scripts into your training.
Provide your employees with this must-have training resource needed for building relationships, creating an inviting atmosphere, and cross and suggestive selling.
Make your shop the place to be and increase sales by offering knock your socks of service!
---
---
More from this collection