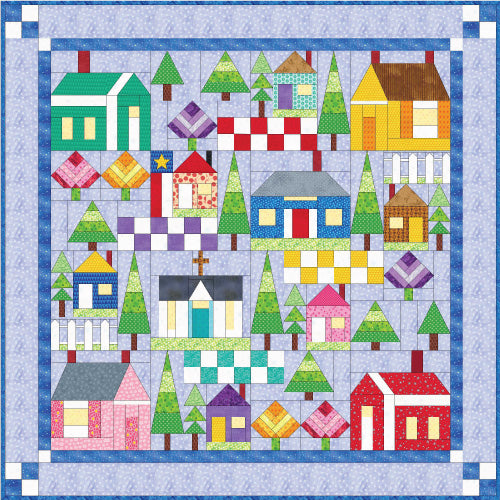 All Around the Neighborhood Sampler 12-Block
"Build" a few houses, add trees, a few picket fences, and some pretty flowers and you have a colorful and scrappy new neighborhood. House blocks are perennial favorites and the tree blocks in this fun house sampler quilt are easy to paper-piece. The blocks finish range from 6" square to 12" square. The quilt finishes to approximately 59" square. A pretty white church and a few picket fences complete your sampler. Little log cabin flowers bloom in this colorful neighborhood that you can make your own with the fabrics and colors of your choice.

---
 NOTE: Use these Samplers in-store or online as Saturday Sampler, Block by Block, On-going Class, Kit the Quilt top and finishing, and Sell the patterns. FabShop Sampler CD's provide shopowners who purchase the programs unlimited reproduction rights. These programs are not to be used as free patterns, free downloads, or giveaways.
---
---
More from this collection