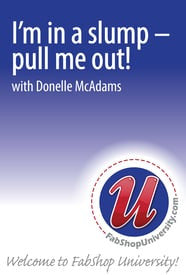 032 I'M IN A SLUMP - PULL ME OUT!
by Donelle McAdams
If you are struggling or feel you are in a slump, Donelle McAdams will truly inspire you in this class with:
• encouragement
• motivation
• inspiration
• ideas for promotions
• loyalty programs
• events
• annual sales
Success is hard work, perseverance, learning, and the love for what you do!"
---
Brought to you by The Fabric Shop Network!
...the trade organization for independent quilt and fabric shopowners and design studios
Our goal is to help qualified business owners grow, succeed, prosper, and enjoy business to the fullest. We strive to provide the most complete, comprehensive, and detailed source of business information available within the fabric retailing industry. Visit us at fabshopnet.com .
---
---
More from this collection