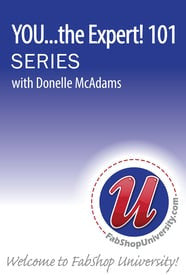 022 023 024 YOU the Expert 101 - 3 Sessions
by Donelle McAdams
Are you the EXPERT in your shop? Are all the people that represent your shop EXPERTS? Join Donelle McAdams and learn tips and techniques with her useful, time-saving information to increase profit, streamline workflow, educate your customers and staff, and build value into your classes. Knowledge = Increased Sales!  
Includes 3 Sessions. 
Brought to you by The Fabric Shop Network!
...the trade organization for independent quilt and fabric shopowners and design studios
Our goal is to help qualified business owners grow, succeed, prosper, and enjoy business to the fullest. We strive to provide the most complete, comprehensive, and detailed source of business information available within the fabric retailing industry. Visit us at fabshopnet.com .
---
---
More from this collection