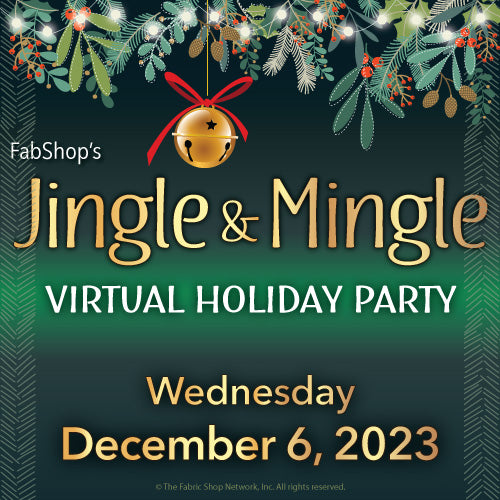 Jingle & Mingle…FabShop's [Virtual] Holiday Party!
Jingle & Mingle…FabShop's [Virtual] Holiday Party!
An exclusive FabShop event for shopowners and sponsors!
We are making things merry and bright! No matter if you have been naughty or nice, come and join the fun, and connect with FabShop Friends, old and new!
Evening highlights:
Opportunity to network with your colleagues, Shopowners and Sponsors.
Idea swapping, success sharing, holiday-themed contests, and FUN!
Party boxes, door prizes, plus more!
When: Wednesday, December 6, 2023
Time: 5:00pm Pacific, 6:00pm Mountain, 7:00pm Central, 8:00pm Eastern
Where: This is the best part…no need to travel! Just pull up a chair, grab a drink, then connect wherever you are!
Hurry, and reserve your spot today!
The first 100 to register will receive a party box!
-----------------------
Presenting Gold Sponsor
-----------------------------------------
Brought to you by The Fabric Shop Network!
...the trade organization for independent quilt and fabric retailers
Our goal is to help qualified business owners grow, succeed, prosper, and enjoy business to the fullest. We strive to provide the most complete, comprehensive, and detailed source of business information available within the fabric retailing industry. Visit us at fabshopnet.com.
*Please note that the live session will be recorded. By attending the live webinar session, you are consenting to the recording and further distribution of the recording by FSN.
---
---
More from this collection