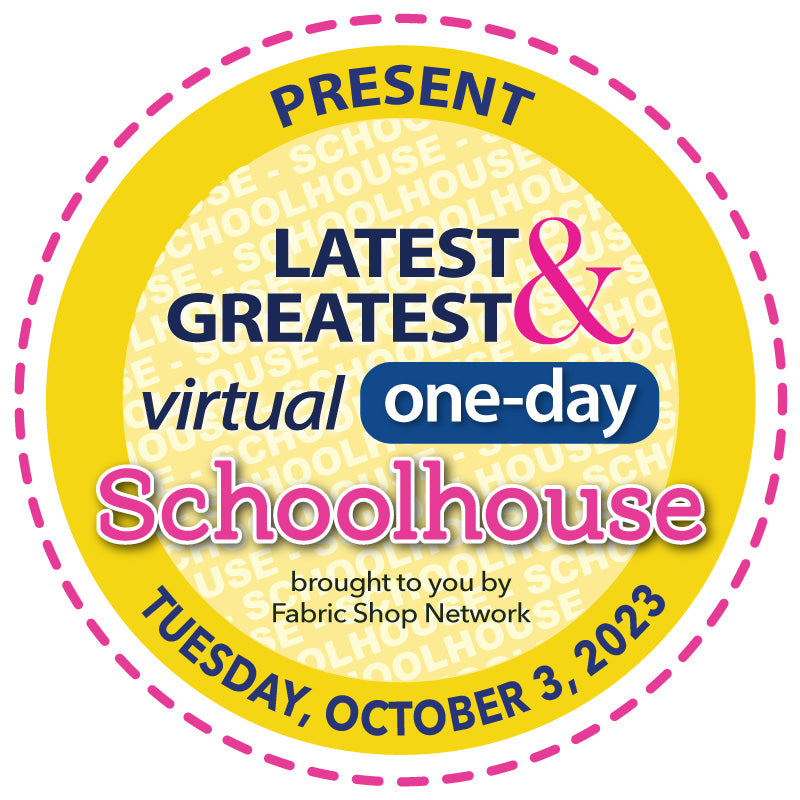 Call to Present at FabShop's Virtual Schoolhouse Event - October 3, 2023
Call For Presenters
Your Business and Your Products - Take Center Stage
Tuesday, October 3, 2023, at
FabShop's Virtual Schoolhouse!
8am-5pm pacific | 9am-6pm mountain | 10am-7pm central | 11am-8pm eastern
Presenter Registration Deadline:
Thursday, August 31, 2023
The Fabric Shop Network is excited to announce the next edition of our Virtual Schoolhouse! This well-received virtual event is designed to connect pattern designers, publishers, suppliers, and other quilting industry wholesalers with our independent fabric/quilt retailers.
What is FabShop's Virtual One-Day Schoolhouse? If you've ever presented at International Quilt Market's Schoolhouse Series, you can relate to being in a presentation room with excited shopowners and their employees ... the fun and the energy of hustling from room to room hearing all about the Latest & Greatest! That's exactly what the FabShop Virtual Schoolhouse is, only in a virtual, interactive Zoom format!
We are looking for a range of presenters – pattern designers, publishers, suppliers, and other quilting industry wholesalers – to share your product demos, patterns, publications - and more with our shop owners. Don't miss this opportunity to create excitement around your products, and reach shops virtually! Presentation time slots are limited for this one-day event.
Do your products belong in an independent fabric/quilt shop?
This is your opportunity to present LIVE for 20 minutes from the comfort of your own office, studio, workspace, or home - and connect directly with an audience of independent quilt and fabric shop owners.
--------------------------
Here's what a presenter said about a previous event:
"We really had great feedback from the spring event, so I'm excited to participate again.  This is a new channel for us that's giving us great ROI." ~ Julie, Patch Abilities
Here's what an attendee said about a previous event:
"I loved the Schoolhouse today. It was great seeing everyone, and the new notions, patterns, and fabrics. I'd like to give a big thank you to you and your staff!"
---------------------------
As a Virtual Schoolhouse Presenter - Your Presentation Package Includes:
 Your Business and Your Products - Center Stage
20-Minute Live Zoom Presentationduring the Virtual Schoolhouse on, Tuesday, October 3. Sessions start at 8 am Pacific. (Presentation times are assigned on a first-come, first-serve basis.) A single learning track ensures that all participants who are signed in - will be signed into your presentation.
 FabShop Staff Support
A FabShop team member will open your session and introduce you as the presenter. They will also monitor the time during your presentation and assist you with keeping track of participant questions.
Before The Bell - Meet the Shop Owners
As a presenter, you'll be invited to attend our virtual social event, Before the Bell, for a brief introduction the morning of the event on Tuesday, October 3, at 8 am Pacific. It's an additional opportunity to plant the seed for what shop owners will experience in your presentation.
Your Product Samples - Directly Into the Hands of Shop Owners
The first 125 registered shop owners will receive the FabShop School Bag - it's sent to shops prior to the Virtual Schoolhouse Seminars. Shop owners will get the chance to take a look at your product samples - ahead of your presentation. They'll be coming to your presentation with questions and a sample of your product in their hands.
Schoolhouse Digital Handouts - For Every Attendee
Your Call-To-Action sale sheet and/or handout will be included in FabShop's Digital Handout bundle. These downloads will be available to all registered shops prior to and after the Virtual Schoolhouse Event.
Your Presentation Lives On
Your 20-minute presentation will be recorded, and replays will be sent to the shops registered to attend for them to refer back to.
Ready to Take Center Stage?
Cost:$150.00 per session / Reserve one or multiple sessions
Sign up here on fabshopstore.com
Once you are registered, we will provide you with a presenter confirmation for your Schoolhouse session as well as instructions for how to submit your files for the attendee's Schoolhouse Digital Handout bundle.
Important Dates:
Presenter Registration Deadline:Thursday, August 31, 2023
Materials (Product Samples and Digital Handouts) Due: No later than Wednesday, September 20th, 2023
Any Questions?
We are looking forward to working with you to showcase your business - and to creating an exciting Virtual Schoolhouse for our participating shop owners!
Thank you for your continued generosity and support!
The FabShop Team
The Fabric Shop Network, Inc. (FabShop)
...the trade association for independent fabric and quilt retailers.
fabshopnet.com
360.666.2392
---------------------------
The Fabric Shop Network is a trade organization for independent fabric and quilt retailers. As an organization, we provide comprehensive resources and services to help educate, connect, and support our members worldwide. For more information contact info@fabshopnet.com or call us at (360) 666-2392. 
---------------------------
The Fine Print:
* The presentation registration fee is non-refundable.
** Please note that your live session will be recorded. By presenting the live virtual event, you are consenting to the recording and further distribution of the recording by FSN.
---
---
More from this collection